Making Life Safe
ATS Smart Solutions is dedicated to making life safe. Each ATS line of business provides its respective market with innovative products and solutions that help make products and organizations safer, more effective, and even better for the environment.
You Do Have a Safe Alternative
During 2020, our world took a giant leap towards becoming a safer, more environmentally responsible place to live. Today's science and technology is providing us with safer products at increasingly competitive prices.
Everyday businesses are becoming more aware of how their decisions impact the world downstream. That is why ATS has focused its entire business in supplying our customers with products that protect, and improve the lives of their employees, communities, and the wildlife that share the earth with us.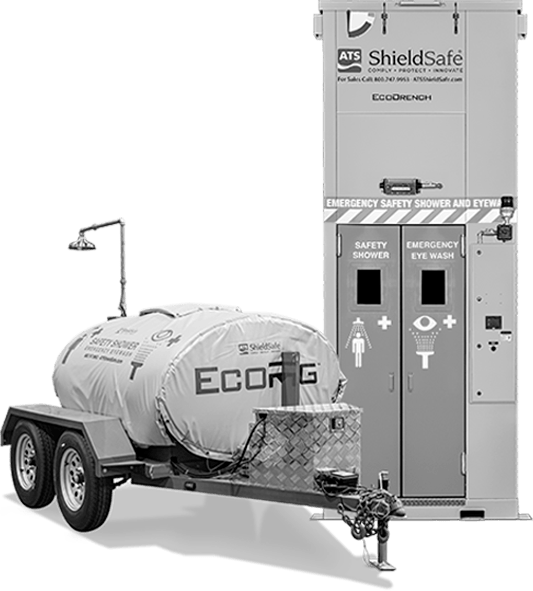 Best-In-Class Tank-Fed Safety Showers
ATS ShieldSafe showers meets the strictest safety regulations and withstand extreme weather conditions. ATS ShieldSafe is the most maintenance-free safety shower line-up that can be purchased or rented, ensuring the most comprehensive employee protection available.
Enclosed Gravity-Fed Safety Showers
Enclosed Protection and Privacy
Enclosed showers from ATS ShieldSafe provide consistent immediate relief in a completely self-contained shower unit. The cubicle shower design provides victims total privacy and allows the shower to be a safe haven during extreme weather events. The high-quality steel construction can withstand hurricane force winds and extremely low temperatures.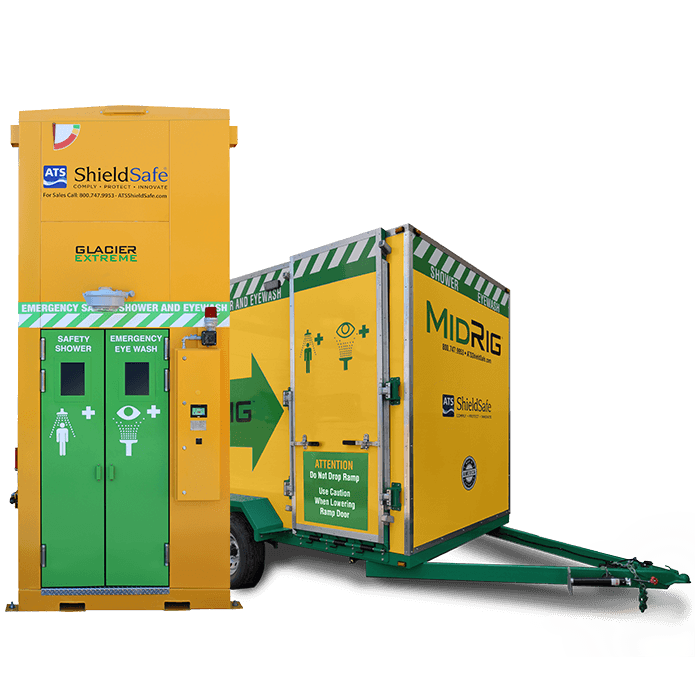 Mobile Safety Showers
Mobile Protection
Mobile safety showers and eyewashes means organizations can bring protection off-site to remote and temporary locations. These trailer-based showers come in self-contained and free-standing options and can come as an optional heating/cooling station with built-in ANSI first aid station. Enclosed mobile showers provide accident victims with much needed privacy and protection in remote, harsh environment locations.
Renting an ATS ShieldSafe Safety Shower
Protection on Your Budget
ATS ShieldSafe is proud to offer its award-winning safety showers as rental units, allowing even the most budget-conscious organizations to bring award-winning safety with them. Generous terms and low maintenance protection are only the beginning to renting a safety shower from ATS ShieldSafe.
CoolRig™
The Cool-Down Safety TrailerThe CoolRig is the most robust cool-down trailer on the market. The all metal construction features 128 sq. ft. of floor space, protected by insulated roof and triple-barrier clear sidewalls. By adding the best-in-class cool-down trailer to your fleet, you'll protect your employees and your corporate interests from heat stroke, dehydration, and other unsafe working conditions.
WaterGuard™
Keep Your Showers Contaminant-Free
WaterGuard is a silver nitrate canister that can clean and protect shower water tanks (and any other water vessel) for up to two years. In fact, shower tanks that are protected with WaterGuard don't have to be emptied and refilled monthly—seriously. With WaterGuard, you can safely store your tank water at higher temperatures—and for longer periods—than would otherwise be possible.
Maintenance-Free & Highly Durable Safety Showers
Protection When You Need It
ATS ShieldSafe showers keep maintenance in check by eliminating dripping pipes, never-ending maintenance from freezing, ongoing weekly activation tests, and constant tank cleanings. Your safety showers will remain totally reliable and operational during the uncertainty natural disasters.
With ATS ShieldSafe's proprietary gravity-fed shower design, there is no need for pumps that may fail or pipes that can freeze or calcify.

A Seamless and Sustainable Disinfection Plan
ATS ChemDepot supplies environmentally-safe disinfectants, and sanitizers and that are safe to use around people and animals, which means it can be used to safely protect employees and customers using existing in-house personnel.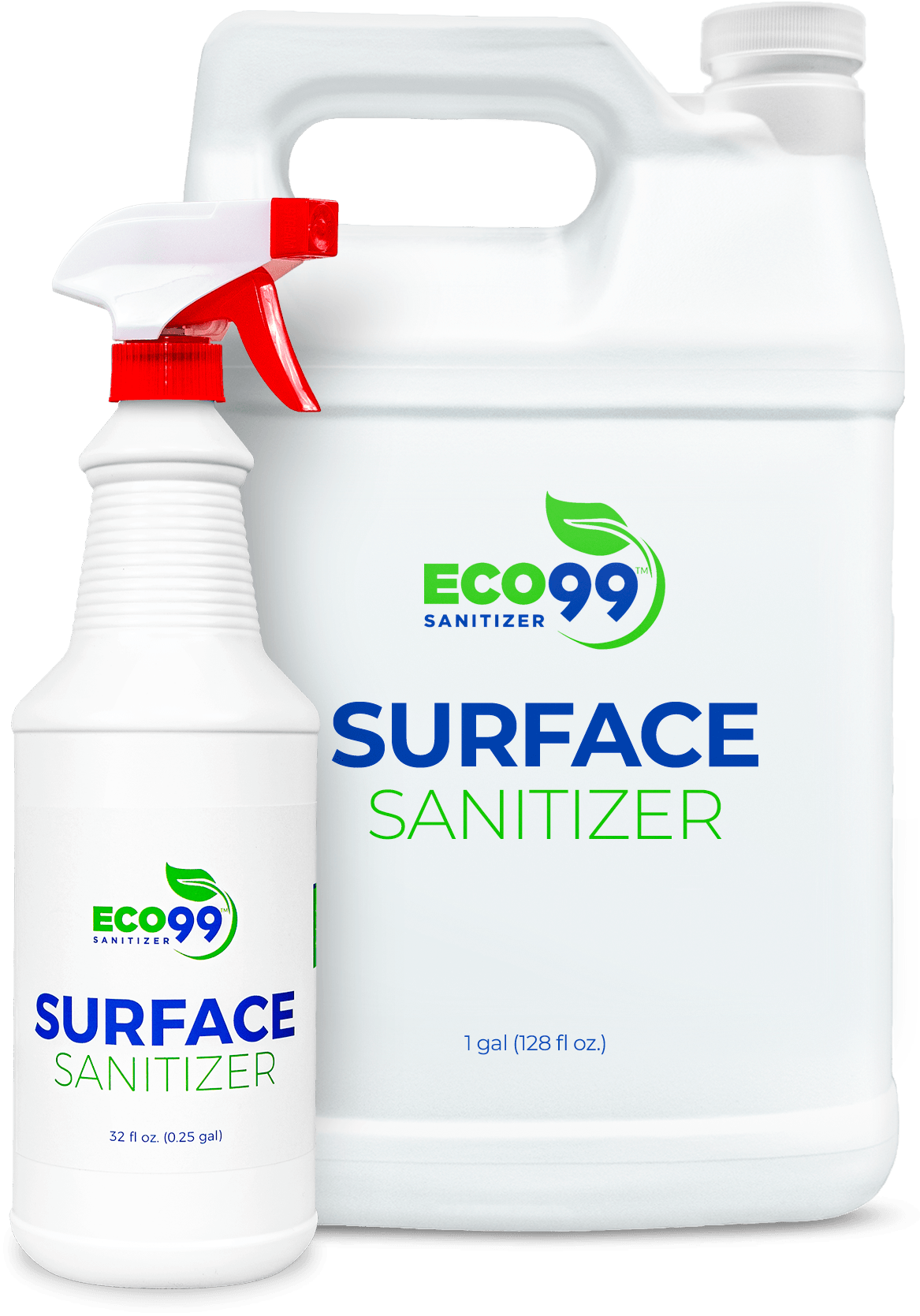 Disinfectants
A Safe AlternativeAn effective disinfection plan must minimize work disruption and while avoiding hazardous chemicals that cause health problems and damage costly equipment. Your organization can protect employees and customers with a seamless and sustainable disinfection plan using existing in-house personnel.
ATS ChemDepot supplies environmentally-safe disinfectants, sanitizers, and disinfectant delivery systems that are safe to use around people and animals.
Disinfectant Applicators
Fast and EfficientATS ChemDepot offers a wide variety of proven disinfectant applicators that provide excellent coverage and dramatically reduce the use of disinfectants and application time.
PPE
When Protection is Required
Today, with COVID-19 being spread worldwide and the demand for PPE skyrocketing—has left many traditional suppliers in short demand. Due to fluctuating product levels between manufacturers' PPE supplies often vary. ATS ChemDepot offers a wide variety of proven PPE from multiple trusted manufacturing sources.
Test Kits
Take Control with On-Site TestingBecause pathogens like SARS-CoV-2 can live on hard surfaces for long periods, they can quickly spread throughout your workforce undetected. On-site testing gives you the time and knowledge to respond. You no longer need to waste critical time getting samples to and from a lab for testing—result times are dramatically reduced and readily available.

Clean Water Balancing Act
Water and wastewater treatment plants are constantly performing a carefully orchestrated balancing act to optimize safe water output. ATS Innova offers the most advanced clean water solutions available, with solutions for water treatment, wastewater treatment, and surface water treatment.
Water Treatment Plants
Tighter Budgets & More Regulation
Like most water treatment facilities throughout the US, water treatment managers are battling all types of water issues and doing it on an ever tightening budget—all facing more regulation. ATS Innova will reduce operational costs while delivering superior results, including:
Significant cost reduction
Taste and odor improvement
Meet and exceed DBPs standards
Treat and remove invasive mussels
Reduce sludge and backwashes
Wastewater Treatment Plants
Reclaiming Wastewater Treatment
ATS Innova uses advanced methods and revolutionary products to solve issues with waterways and wastewater treatment. We provide the following expertise, experience, technology, and program management capabilities for large-scale wastewater projects.
Odor reduction
Nitrogen removal
BOD/COD/FOG control
Phosphorus abatement
Struvite prevention
Sludge reduction
Biosolids dewatering
H2S removal
pH adjustments
Industrial Water Treatment
Get CompliantATS Innova can help fine tune industrial water processes—like coal ash remediation. Small and simple adjustments can have remarkable results: profits will increase, environmental health will improve, and legal liabilities, EPA harassment and fines, and public resistance will be reduced.
Surface Water
Cleaning Up Our Waterways
Eliminate bacteria, algae, and invasive mussels in lakes, ponds, reservoirs, sedimentation basins, irrigation canals, and other water systems. ATS Innova products are safe for humans, animals, and fish while taking care of the real problem.
Global Water
The World's Most Valuable Resource
ATS's mission and focus is providing global assistance, improving health and living conditions, aiding governments to help their cities, and countries develop—and to help people.

Water That Helps Your Profits Grow

ATS Gro help increases crops' ability to uptake micronutrients from the soil. ATS Gro also provides infrastructure protection— everything from equipment and drip lines to ponds and runoff.
Plant Nutrients
Helping Crops Thrive
Healthier plant uptake increases when the additional plant building blocks of magnesium, iron, manganese, and zinc are available. This dramatically increases a plant's development efficiency, increasing foliar growth at emergence, late season growth, and maximum flowering and fruit set. Vital nutrients help with plants with photosynthesis, respiration, and nitrogen assimilation and can be unlocked with ATS Gro products.
Healthy Soil
Creating Nutrient-Rich Soil
Rich, fertile soil is enhanced with a diversity of beneficial microorganisms. The improved physical soil structure provides an ideal environment for plants to access available nutrients for root development and stem and leaf health. ATS Gro products nurture beneficial microbes while protecting plants from detrimental to soil-borne diseases and plant-parasites.
Irrigation
Clog-Free Irrigation
ATS Gro's irrigation products prevent mineral buildup and the associated drip-line biofouling. These products reduces maintenance, extends equipment life, and keeps drip lines and emitters clean from bacteria, algae, and other pollutants.
Fruit and Vegetables
Higher Yields
Higher quality produce and increased yields result in maximum profits. ATS Gro's flowering and fruiting products enhance a plant's energy to push "bud-break" consistently and accelerate the emergence of fruiting buds while foliar nutrients maximize flowering and fruit set.
Disinfection
Food That's Safe
ATS Gro's buffered chlorine dioxide disinfectant TwinOxide is the superior fruit and vegetable wash. It is highly effective as a disinfectant—99.99 percent kill rate in 60 seconds— and is safe to use, eco-friendly, and non-carcinogenic.
Let's Talk
ATS is constantly looking to work with organizations to make their processes and products better, safer, and more cost-effective—for employees and consumers alike. Whether its 21-century water treatment solutions, ground-breaking disinfectants and sanitizers, top-of-the-line safety showers, or profit-boosting agricultural products, ATS has something for your organization, and we're ready to help.